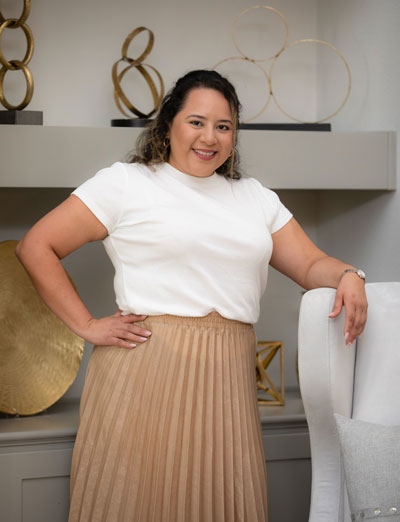 Maria Cuevas is a seasoned real estate agent passionate about streamlining and simplifying the real estate process for her clients. Maria understands how the buying and selling process can be overwhelming and daunting and seeks to lighten the load for her clients by helping them find the ideal deals and opportunities that reflect their values and personalities. She specializes in all aspects of real estate including, first-time home purchases and luxury real estate. Whether you are looking to upgrade, downsize or sell distressed property, Maria guarantees her clients professionalism and exceeded expectations.
With over five years of experience in the industry, she has created a vast and resourceful network of clients and professionals. Maria is readily available to her clients at all times and strives to maintain open communication and provide useful and timely feedback. She is a real estate Collaboration Specialist and Accredited Buyers Representative. Her bilingualism in Spanish and English allows her to serve a broader and diverse audience. Her educational background in Logistics and Supply Chain Management has equipped her with advanced customer service, planning, and problem-solving skills. Maria is committed to creating and maintaining meaningful land long-term agent-client relationships. She seeks to educate and empower her clients throughout the entire process, taking her time to answer their questions and explain the required fundamentals. Maria is resourceful, knowledgeable, and promises to be your real estate partner for life.
Outside of real estate, Maria spends her free time working out, journaling and spending quality time with her family and friends.